Thank You from Clare Island Film Festival 2018!
The 6th edition of the festival was a huge success. The team couldn't be happier. Thank you all for your support and encouragement. It was great to see such passionate discourse and engagement with both the films and the filmmakers, over the weekend.
Food and Drink: Mescan Beer for sponsoring the opening night launch and to Beth Moran, Bernard McCabe, Macalla Farm and The Community Polytunnel for food donated at events and the filmmakers brunch. Special Thanks to Jenny Doran who spent her Saturday preparing all the food for the delicious filmmaker's brunch on Sunday which everybody thoroughly enjoyed.
Big Thanks to all the musicians and artists that made the Saturday night sessions so special. For transporting us from Joe Heaney's haunting Sean nós on the big screen to live Sean nós, fiddle, guitars and mandolin at the spontaneous session.
Finally, Thanks to the Filmmakers, the Festival Team, Sailors Bar Bard Room, and to all who have helped in any way and that includes you the Audiences.
All screenings and events are FREE and no need to book tickets. Get there on time to get a seat! Helping promote access to the ARTS for ALL!
| | | |
| --- | --- | --- |
| | CLARE ISLAND FILM FESTIVAL SCHEDULE 2018 | |
| FRIDAY | | |
| 8:30 PM | Festival Opening Reception | BARD ROOM |
| | with filmmaker guests | |
| | | |
| 9 pm | Irish SHORTS 1 | |
| | | |
| SATURDAY | | |
| 12 PM SAT | POETRY FILMS | BARD ROOM |
| | Introduced by Paul Casey Director Ó Bhéal plus Q&A after | |
| 2 PM SAT | Irish SHORTS 2 | BARD ROOM |
| | | |
| 4 PM SAT | Irish SHORTS 3 | BARD ROOM |
| | | |
| 8 PM SAT | Irish FEATURE FILM | BARD ROOM |
| | In The Clear Air by Miriam Gregorio | Clare Island Doc |
| | Song of Granite by Pat Collins | Irish Doc |
| | | |
| 10 PM SAT | LIVE MUSIC | SAILORS BAR |
| | | |
| SUNDAY | | |
| 11:30 AM | FILMMAKERS BRUNCH | |
| | | |
| 2 PM SUN | Irish FEATURE FILM | BARD ROOM |
| | Dead as a Doe-Doe by Ssarah Elllen Lundy | Experimental |
| | The Silver Branch by Katrina Costello | Irish Doc |
| | | |
| 5PM | KIDS SUPRISE MOVIE | BARD ROOM |
| | | |
| | *times/running order subject to change | |
| | ALL film events are FREE and we would love to see you there! | |
We have two award winning Irish feature documentaries to share with you this year as well a number of excellent Irish Shorts programmes. The ever popular Poetry Film programme is also returning.
Check out some of the highlights below..
IRISH FEATURE DOCUMENTARIES
Song of Granite by Pat Collins
Screening Saturday Evening
SONG OF GRANITE is a critically acclaimed, lyrical and unconventional account of the
SONG OF GRANITE is a critically acclaimed, lyrical and unconventional account of the life of the complex and enigmatic Joe Heaney, one of the greats of traditional sean-nós singing. Shaped by the myths, fables and songs of his upbringing in the west of Ireland in the early 1900s, this film charts Heaney's emergence as a gifted artist and how his career success came at a personal cost as he journeyed from rural Connemara, through to Glasgow and eventually on to New York City. Song of Granite is a distinct portrait of Heaney's life and a universal exploration of the power of the human voice, directed by Pat Collins.
The Silver Branch by Katrina Costello
Screening Sunday Afternoon
In this bittersweet evocation of the end of an era, an Irish farmer/poet,
deeply entwined with ancestral traditions and the natural world, must stand
up for all that is sacred to him when the government threatens his way of
life.
It resonates with its audience on a deeper level: It is a story of life,
love, family, grief, of commitment and of the struggles of modern day life.
It invites the viewer to follow in mindful meditation and to take a journey
into the self, leading us to a deep connection with the Earth and our
Ancestral wild spirit.
IRISH SHORTS
| | | |
| --- | --- | --- |
| Irish Shorts Programmes | Director | Mins |
| Irish Shorts 1 | | 65 |
| The Sea and the Land | Ines Reinisch | 15 |
| The Lighthouse | Ciarán Hickey | 13 |
| Bog Graffiti | Bob Quinn | 12 |
| Iniscaorach (as gaelige) | Hellena Gallagher | 25 |
| | | |
| Irish Shorts 2 | | 68 |
| Muirgheilt | Tara Hegarty | 8 |
| Kubrick By Candlelight | David O'Reilly | 19 |
| B'fhearr Liom na Sléibhte (I'd Prefer the Mountains) | Nuala Dalton | 14 |
| Salon | Bob Gallagher | 2 |
| Narcan | Peter McNamara | 20 |
| Shellshock | Danilo Zambrano | 5 |
| | | |
| Irish Shorts 3 | | 59 |
| Growing Alice | Danilo Zambrano | 4 |
| Mother & Baby | Mia Mullarkey | 18 |
| Buttered Up | Aine Philips | 6 |
| Chaplinesque | Bryan O'Reilly | 16 |
| Coranna | Steve Woods | 9 |
| A Different Kind of Day | Maria Doyle Kennedy | 5 |
| The Marksman | Conor Healy | 1 |
Iniscaorach by Helena Gallagher
Director Helena Gallagher is a special guest at the festival and will join us for a Q&A after the screening.
"My grandfather would take me and my 6 siblings across to Iniscaroach every summer, we would help him bring sheep across in a punt and I remember those days fondly, they are very very happy memories for me. I have a big smile on my face now as I think about those trips as it was always guarantee that one of us would fall in the sea or get attached by birds! Being an islander myself from Arranmore Island I like to tell the stories that focus on island and rural life."
Over half a century ago, twelve families lived in a row of houses right on the edge of the roaring Atlantic, slaves to its might while simultaneously surviving on what it provided. The close-knit community was torn apart in 1955 when they could no longer fight against the challenges with which they had struggled for generations. Their defences against the roaring seas were diminishing and the younger generation were being forced into emigration. The older generation were left fighting a losing battle in the backbreaking work that was essential for survival on the island – hauling boats was never an old man's game. To cap it all, the Government of the time was less than sympathetic – suggesting those who lived and died by the sea would do better working inland farms.
Viewers will learn how a seemingly inhospitable patch of land – with no phones, no shop, no electricity and a solitary well as water supply – was home to people who still feel a bond and kinship that is as strong as it was on the day they last parted over the waves long ago.
In this 25 minute documentary, 6 of the original inhabitants make an emotional return to Iniscaorach Island. As Norah Brown stands outside the location of her old home, long since swallowed by the sea, she talks about the terrible storm of December 1953 that brought the water right into the house and left the family fearing for their lives. Now in their 70s, Mary and Philly sit in the ruin of their old home and fondly remember the mischief they got up to as kids on the island. Hughie Gallagher takes a walk to the old school house and recalls his days as a pupil there. Willie Gallagher talks about the close, hard-working community of islanders where the women worked just as hard as the men, and Susan O Donnell and Gracie O Donnell sit on the rocks and recall their youth on the island.
Kubrick By Candlelight by David O'Reilly
Kubrick By Candlelight is an award winning romantic comedy set behind the scenes of the filming of the Stanley Kubrick motion picture Barry Lyndon which shot in Southern Ireland in 1973. Many myths and legends surround Kubrick and none more so than his dramatic escape from Ireland after receiving a threatening phone call in early 1974….
Our story finds two young lovers, one an Irish kid playing a British Redcoat, one an English assistant director, from different sides of the camera tracks. Will their love survive the shoot? Can the production's insatiable desire for candles be satisfied by the local village? And just who made that threatening call to Stanley which sent him running?
Shot in Tullamore, County Offaly and winner of the Film Offaly/ Filmbase Bursary 2016, David O'Reilly brings together a sensational cast including Darragh O'Toole (Red Rock, South), Amy Hughes (Dad's Army, Vikings) and Phelim Drew (My Left Foot, Angela's Ashes) as well as an illustrious behind the scenes crew including DOP Stil Williams (Convenience, Gone Too Far) and producer Vinnie Jassal (Fast & Furious Six, Kingsman). The legendary actor Brian Cox joins us as The Narrator.
Original and adapted score by world renowned Irish musicians Ewan Cowley, Gavin Cowley and Joe Csibi as well as Peadar O Riada playing his father Sean's piece from the soundtrack of Barry Lyndon – Women of Ireland. Also featuring two fantastic tracks from 70s Irish band "Cromwell".
500 candles, 100 period costumes, 50 extras, a crew of 30, 10 classic cars and vans, 8 locations, 2 horses and one Stanley Kubrick in the guise of actor Michael Nolan, Kubrick By Candlelight is an unashamedly big scale short film, set across two time periods, with Hollywood production values to rival any feature film.
Kubrick by Candllelight is directed by David O'Reilly and stars Darragh O'Toole, Amy Hughes, Mark Lawrence, Al Foran, Phelim Drew, Mark Webb, Lisa Moore, Alan Curran and Michael Nolan as Stanley Kubrick.
And featuring Brian Cox as The Narrator.
Winner of Best film at Waterford Film Festival. Winner of Best Cinematography at the Richard Harris International Film Festival. Winner of Best Screenplay at Kino International Film Festival.
The Marksman by Conor Healy
An army sniper contemplates the lives of those he is tasked with eliminating.
Coranna by Steve woods
Pat Casey is to take the landlord's best race horse – Coranna – from Mayo to the races in Chester England. On the way Pat journeys through the horrors of the Famine and also sees that not all in Ireland suffer the same fate. In Chester George Moore, Pat's landlord, makes a deal with Pat that could help save lives back home. Based on true events.
The Sea and The Land by Ines Reinisch
In Malin Head, Ireland´s most northerly point, the elements of nature are intensely tangible. Waves are breaking on a rugged coast. Life is ruled by the rhythm of the tides, the wind and the rain. But times are changing. Three men share their personal thoughts of the past and their perspectives on the future. A thoughtful, poetic reflection on the sea and the land.
A Different Kind of Day by Maria Doyle Kennedy
This tender and comedic 5 minute short film, addresses the idea of perception and ability, and does so with humour and grace. 2 young adults who have Down Syndrome have an unsettling interaction with a group of youths as they go about their Saturday. The consequences change the day for everyone……
Buttered Up by Áine Philips
"Buttered Up" tells the story of a daring housewife who embarks on an improbable journey to explore the mysterious underworld of domesticity. She uses a practical method of escapology, delicious quantities of butter and a complete suspension of disbelief to undergo an unusual metamorphosis…
MORE INFO ON FILMS:
Reviewed: Song of Granite
https://www.rte.ie/entertainment/movies/2017/1204/924885-reviewed-song-of-granite-is-a-marvel-of-irish-cinema/
Director:  Pat Collins
Starring: Colm Seoighe, Macdara Ó Fatharta, Mícheál O Confhaola, Pól Ó Ceannabháin
This film is full of marvels that are a million miles from John Ford. There is a brilliant tracking shot where Seoighe as  the young Heaney is seen running at boyish leisure along a sequence of white-washed cottage fronts, outside of which men are working at various chores. You watch and are transported back to Heaney's native Connemara in the 1930s, an effect enhanced by that washed out, sepia-like tone employed to almost startling effect.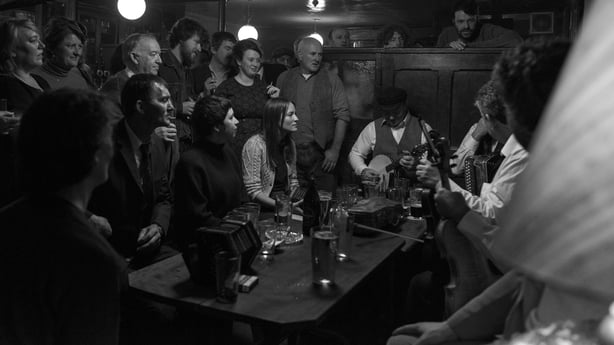 Likewise, Micheál Ó Confhaola as the middle-aged Heaney cuts a powerful figure, cheekbones sculpted like the granite of the title. Ó Confhaola plays him with a kind of morose pride, unleashing every so often his gift of sean nós. Macdara Ó Fatharta does a marvellous turn as the elderly Heaney. There are impressive musical cameos from Damien Dempsey, Lisa O'Neill and Seamus Begley in a Dublin bar scene, presumably intended to be O'Donoghues of Merrion Row in the 1960s.
Ó Confhaola as the singer sings a powerful sean nós ballad in that pub scene. As is the custom in such sessions, Seamus Begley winds the singer's arm for brotherly support and the result is one of the film's most affecting segments. Impromptu and spontaneous, it's like the bar singing in Terence Davies'  equally beautiful film of Liverpool, Distant Voices, Still Lives.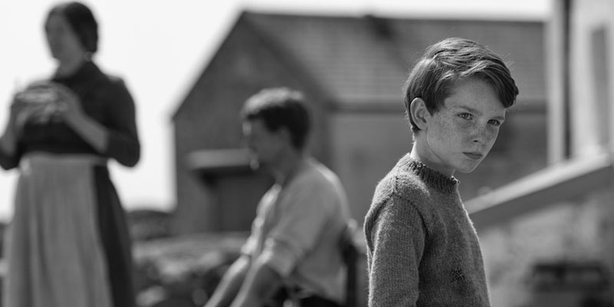 No-one of course has done so as yet, but it would seem disrespectful to the memory of Ó hÉanaí to tell cinema-goers that it is not necessary to be interested in the singing to appreciate the great riches that are in Song of Granite. Technically, to say such a thing would be true but somehow disingenuous. Without wishing to be didactic, ultimately the star of Song of Granite should be the singing, the film should lure us to listen the classic recordings.Will people just watch this entrancing movie and move on?
In any case, Pat Collins' tone poem is not a conventional documentary – the late Michael Davitt covered that ground in a fine RTÉ film in 1996 entitled Joe Heaney: Sing the Dark Away. Song of Granite is, by contrast, an imaginative biopic which borrows salient threads or themes, from the singer's life and times in Ireland, in Glasgow and in the USA.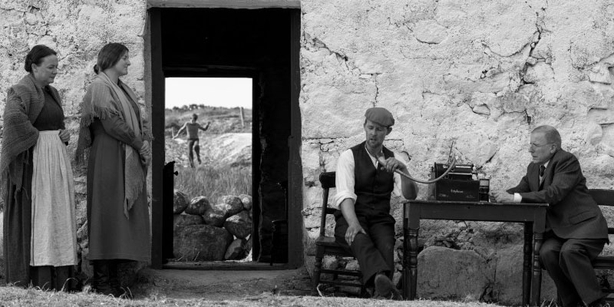 Connemara in this version is a lost El Dorado, where Heaney grew up sure and safe in the affection of his parents, dancing for an accordion player, listening to his father sing. Look at that early scene filmed from overhead, where another singer seated on a stool by the open hearth sings to a closely-seated group. Then a seanchaí tells a story. The fact that many of these participants are relatively unknown actors lends touching grace to those early scenes.
Connemara appears in Song of Granite to be a place where the singer would feel forever the tension of staying or going. This film does not concern itself with serious amounts of dialogue, but it is tactfully written, to coin a phrase, by Pat Collins and Eoghan Mac Giolla Bhríde. In one of the film's many brilliant scenes, Joe returns from a spell of work in Glasgow and sits with his father Pádraig, who is played by Pól Ó Ceannabháin. They sing and they talk easily as Gaeilge, Joe smokes and watches the passing scene.
Then his father gently draws attention to a local man of about the same age, remarking that he has recently bought a trawler. There may be sly intent here, the father perhaps indicating that a livelihood can be had not far from the brackish inlets of Connemara, if his son would only consider settling down at home. Joe says the trawler buyer will do well, his father is resigned to the fact that his son has always had his eye on the horizon, as the English translation puts it. Seosamh Ó hÉanaí was, to say the least, a restless soul.  A work of genius.
Paddy Kehoe
Pat Collins, director of the feature film Song of Granite @ SXSW